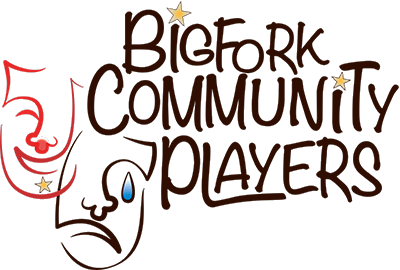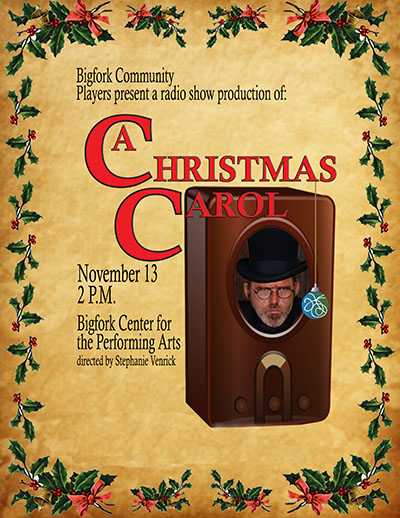 An Oldtime Radio Play
A Christmas Carol by Charles Dickens
Broadcast Performances
On KGEZ 600AM Christmas Eve and Christmas Day
The Director
Stephanie Venrick
The Story
Before television there was radio. And before that there was Charles Dickens and his timeless seasonal classic, A Christmas Carol. In this performance, we recreate the age of radio with a stage presentation of Dickens' story. Taken with minor modification from the original radio play produced by The Campbell Soup Company, this production tells the story of a very special Christmas Eve experienced by one Ebenezer Scrooge. Using only stage microphones and a Foley table for sound effects, the cast of this production present an auditory experience, much like what would have been expeienced in the live radio studio many years ago. With a live cast recreating the roles played by Orson Wells and Lionel Barrymore, among others, this is as close to an early 20th century production as you will find.
The Cast
Orson Wells: Tim Wenz
Ernest Chappell: Bryan Zipp
Narrator: Leah Lindsay
Bob Cratchit: Scott Roskam
Scrooge: Rob DewBre
Child: Lisa Saban
Fred: Duane Herriges
Gentle Lady: Barbara Gordon
Marley's ghost: David Vale
Ghost of Christmas Past: Allison McCarthy
Belle: Ashley Wenz
Ghost of Christmas Present: Larry Lefcourt
Mrs. Cratchit: Jolene Beaubien
Martha Cratchit: Riley Hoveland
Tiny Tim: Jake Baldi
First Woman: Donna England
Second Woman: Stephanine Venrick
Younge Scrooge: Tim Wenz
Belle's husband: Bryan Zipp
Young Girl: Lisa Saban
Lionel Barrymore: Rob Dewbre
Local Announcer: Duane Herriges
Fezziwig: David Vale
Network Announcer: Larry Lefcourt
Boy: Riley Hoveland
The Crew
Director: Stephanie Venrick
Producer: Michele Shapero
Sound Effects: Josh Ruebenson
Sound Effects: John Beaubien
On-Air Broadcast Performances
Saturday, December 24, 7:00 p.m.
Sunday, December 25, 6:00 a.m. & 2:00 p.m.
KGEZ 600AM
Broadcasting from Kalispell at 600 KHz on the AM band.
On the Web at www.KGEZ.com.
Hear Our Radio Ad
Hear Our Interview on KGEZ Radio