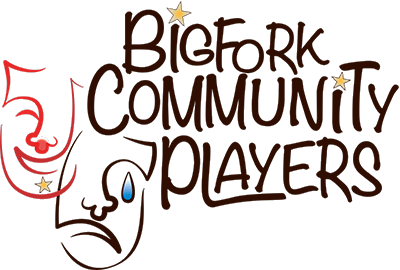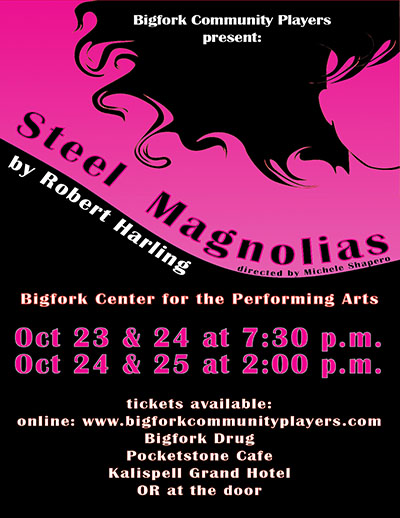 The Play
Steel Magnolias by Robert Harling
The Directors
Director: Michele Shapero
Assistant Director: Rose Shannon
The Story
The Bigfork Community Players announce, as their fall production, Steel Magnolias by Robert Harling. In the stage version of the Oscar-winning movie, the witty repartee that fills the air of Truvy's beauty shop in Chinquapin, Louisiana provides a penetrating view into the lives of a few women who define the character of this small, southern town. With Truvy's guidance Annelle, a lost soul, finds her way and is ultimately saved. Shelby, the girl with something special, willingly forfeits it all for something greater. Clairee, the recent widow of a powerful man, becomes a force in her own right. Ouiser, possessed of a sharp wit and "more money than God," provides an ongoing social commentary. M'Lynn experiences and reconciles the loss of that held most dear. And we learn that, in both the best and worst of times, in both pain and pleasure, there is comedy. Wild hilarious comedy.
The Cast
Annelle Dupuy-Desoto: Shannon Bagley
Truvy Jones: Jodie Thole
Clairee Belcher: Beth Kornick
Shelby Eatenton-Latcherie: Alice Finlay
Mary Lynn "M'Lynn" Eatenton: Stephanie Venrick
Louisa "Ouiser" Boudreaux: Maggie McGunagle
Radio announcer: Duane Herriges
The Crew
Director: Michele Shapero
Assistant Director: Rose Shannon
Producer: Steve Shapero
Lighting Designer: Mike Lemler
Lighting Technician: Duane Herriges
Sound: Steve Shapero
Set Designer: Michele Shapero
Publicity: David Vale
Graphic Designer: Karen Kolar
Photography: David Vale, Steve Shapero
Place
Bigfork Center for the Performing Arts
Performances
Friday, October 23, 7:30 p.m.
Saturday, October 24, 2:00 p.m. and 7:30 p.m.
Sunday, October 25, 2:00 p.m.