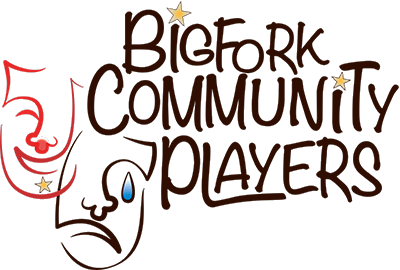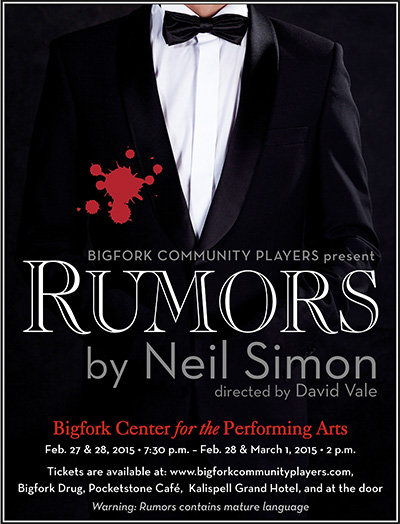 The Play
Rumors, a farce by Neil Simon
The Directors
Director: David Vale
Assistant Director: Rose Shannon
The Story
Four New York society couples have been invited to the tenth wedding anniversary celebration of Deputy Mayor Charley Brock and his wife Myra at their country home north of the City. But, as the guests begin to arrive, something is amiss. All of the house staff have disappeared, Myra Brock is nowhere to be seen, and Charley is found in a stupor on the edge of his bed, covered in blood, and holding a recently fired handgun. In a classic comedy of errors, the first arrivals (a married couple, lawyers by trade) are unsure of what's happened, but are determined to cover it up. As successive pairs arrive, each with their own personal and/or political agendas, the intrigue deepens. With each couple maneuvering to simultaneously support the coverup and distance themselves from it, it's a sticky morass demanding a truly magnificent and miraculous resolution.
The Cast
Chris Gorman: Allison McCarthy
Ken Gorman: Duane Herriges
Claire Ganz: Michele Shapero
Lenny Ganz: Scott Roskam
Ernie Cusack: Don McAdam
Cookie Cusack: Karen Kolar
Glenn Cooper: Tim Wenz
Cassie Cooper: Ashley Wenz
Officer Welch: Lee Prichard
Officer Pudney: Maggie McGunagle
The Crew
Director: David Vale
Assistant Director: Rose Shannon
Producer: Steve Shapero
Production Assistant: Karen Ellis
Lights: Mike Lemler
Sound: Steve Shapero
Set Design: Michele Shapero
Publicity: David Vale
Graphic Design: Sandy Sanford, Monte Sanford, Karen Kolar
Photography: Steve Shapero
Consultant: Jim Caron
Place
Bigfork Center for the Performing Arts
Performances
Friday, February 27, 7:30 p.m.
Saturday, February 28, 2:00 p.m. and 7:30 p.m.
Sunday, March 1, 2:00 p.m.
Warning
Rumors contains mature language. Parental discretion is advised.