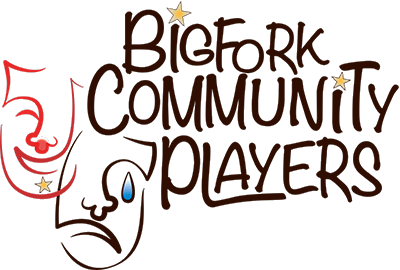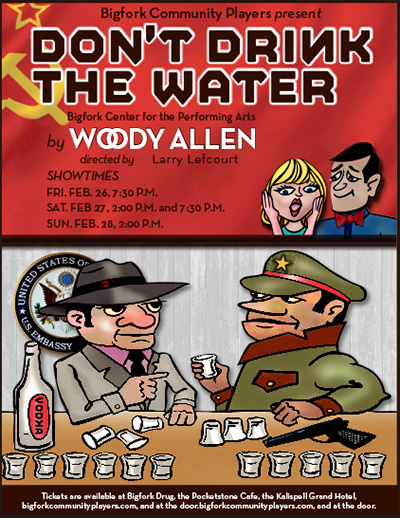 The Play
Don't Drink the Water by Woody Allen
The Director
Larry Lefcourt
The Story
In the world of international politics and intrigue, hot situations should not be left to hot heads. Politically minded ambassadors should not trust their affable but incompetent offspring to mind the embassy. Amateur spies from New Jersey should not bring their families when they photograph arsenals of newly formed totalitarian governments. And Machiavellian sadists running high on coup and caffeine should not head the secret police. But nothing is as it should be, and from a position of safety in the audience, we can't help but greet this volatile situation with explosive laughter.
The Cast
Father Drobney (Tom Hicks): He's been hiding in the embassy for six years from 3,975,000 athiests.
Ambassador Magee (David Reese): In a race for governor, he'll appeal to psychotic liberals and militant facists alike.
Kilroy (George Kappes): The ambassador's assistant, knows the second stanza of The Star Spangled Banner.
Axel Magee (Tony Nelson): The ambassador's son, accidentally wrapped his lunch in a peace treaty.
Marion Hollander (Michele Shapero): The inexplicably level-headed and tolerant wife of Walter Hollander.
Walter Hollander (David Vale): A cook, not a spy, he photographed a secret military arsenal. And got caught.
Susan Hollander (Stephanie Brost): Engaged to be married, that's just her first problem.
Krojack (Robert Carette): Head of the secret police. Wants to hang Walter. And most everyone else, as well.
Burns (Trip Burns): An embassy assistant.
Chef (Lee Prichard): Eccentric, temperamental, and vital.
Sultan of Bashir (Duane Herriges): Important and insulted.
Sultan's First Wife (Michelle Wiggins): Veiled and silent.
Kasnar (Duane Herriges): A party guest.
Countess Borodini (Lee Prichard): Another party guest.
The Crew
The positions without names are open. Let us know if you're interested.
Director: Larry Lefcourt
Stage Manager: Duane Herriges
Lighting Designer: Duane Herriges
Lighting Technician: Duane Herriges
Sound Designer: Steve Shapero
Sound Technician: Scott Roskam
Set Designer: Michele Shapero
Publicity: David Vale
Graphic Designer: Monte & Sandy Sanford
Photography: Steve Shapero
Place
Bigfork Center for the Performing Arts
Performances
Friday, February 26, 7:30 p.m.
Saturday, February 27, 2:00 p.m. and 7:30 p.m.
Sunday, February 28, 2:00 p.m.